Calendar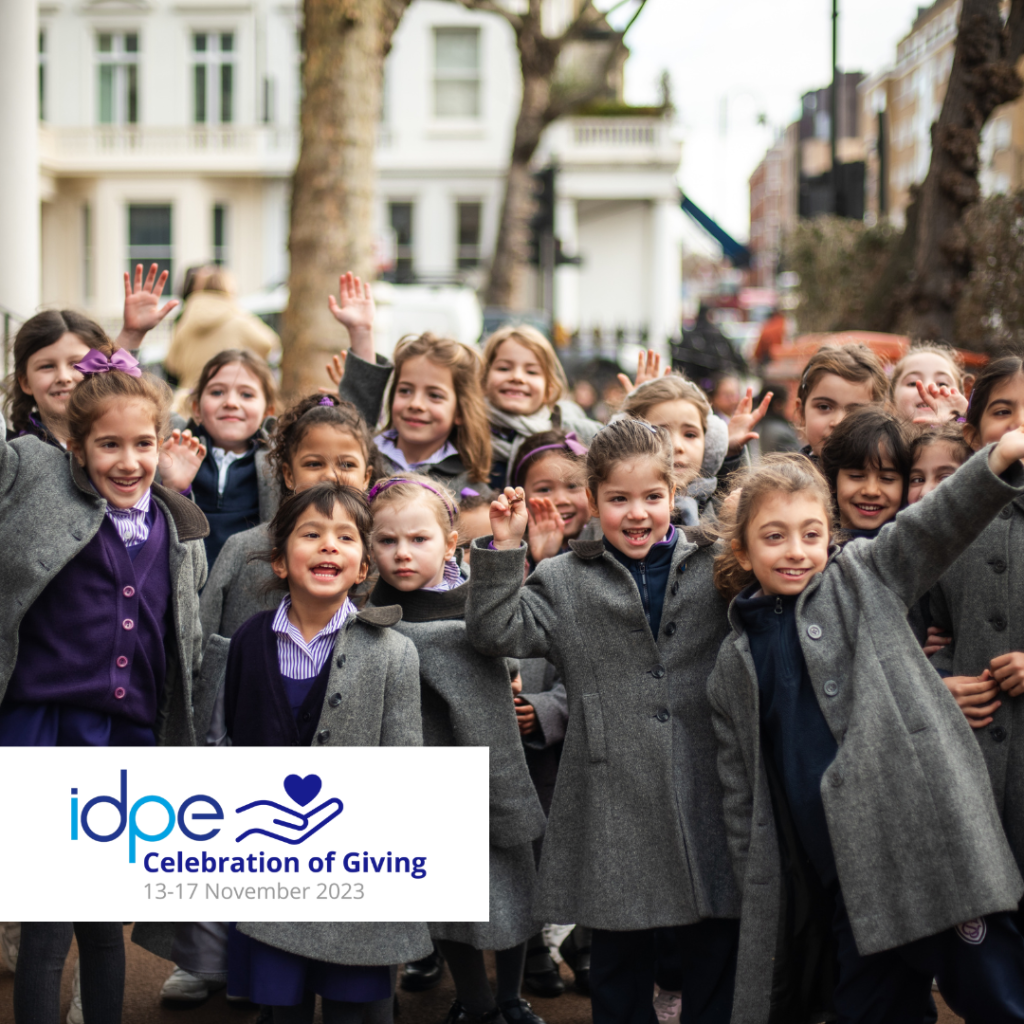 We are excited to mark IDPE's Celebration of Giving 2023, a week-long event that brings together schools, both independent and state, to celebrate the incredible generosity of our school community and the profound impact of our fundraising and engagement efforts on the lives of young people.
From Monday, November 13th to Friday, November 17th, 2023, Glendower will actively participate in this special event, sharing inspiring success stories, valuable case studies, and resources that highlight and exemplify best practices in the field.
At Glendower, giving, philanthropy and fundraising are integral parts of our commitment to supporting our local community. It is all headed up by Zoe Baines, our talented and experienced Director of Partnerships and Development.
Here are some of the initiatives and activities we are involved in:
Weekly Visits to a Care Home: Every Wednesday until Christmas, our Year 2 students will visit a care home just around the corner. This heartwarming initiative connects the young and the elderly, fostering a sense of community and compassion. Whilst there, the girls get involved in reading, art & craft, drawing, singing, board games, all together with the residents. In the New Year, our Reception and Year 1 classes will have the same opportunity.
Partnership Activities: We are thrilled to announce that our partnership activities are kicking off next term with our local primary school, Park Walk Primary School. In March, we will host the GlenPark Prep-Primary Debating Competition, bringing young minds together to explore important issues. Additionally, our school looks forward to welcoming Park walk Primary School pupils to join us for Reading Week and exciting STEM activities during Science Week.
Fundraising Initiatives: Glendower recently launched a bursary campaign in October, with the goal of raising £416,000 to support students in need. We are proud to report that, as of now, we have already raised an impressive £200,000. On October 6th, we launched www.glendowerconnect.org, which will further our mission to create positive change within our community. Last year, we successfully raised £120,000 to enhance our school's playground, providing a safe and enjoyable space for our students.
IDPE Schools' Giving Week: As part of the upcoming IDP Schools' Giving Week, we will be celebrating philanthropy within schools through the involvement of parents, alumni, and the broader community. We will also highlight how our community rallied to fundraise for our playground and discuss our ongoing bursary campaign.
Support for External Charities: At Glendower, we are committed to making a difference not only within our school but also in the wider world. We proudly support three external charities, as well as contributing to emergency appeals raising over £50,000 last academic year for charitable causes.
Deputy Head Miss Rodgers' Marathon Run: We are immensely proud of Miss Rodgers, who raised over £4,000 by running a marathon for the Brompton Fountain. Her dedication and commitment to a charitable cause are truly inspiring.
We look forward to celebrating and sharing the spirit of giving during IDPE's Celebration of Giving 2023. Join us in commemorating the positive impact our school community has on the lives of young people and the broader community. Together, we can make a difference and show our girls how to become gamechangers.
Laura Rodgers is the Deputy Head Academic here at Glendower, overseeing the curriculum delivery, and the assessment processes. A large part of this is preparing the girls for senior schools, and the whole 11+ transfer process. Laura shares an office with Kemi, the Deputy Head Pastoral, to ensure good coordination between the academic and pastoral aspects of the school. The leadership team all work incredibly well together and the bond between them goes beyond the professional, to be able to support each other on all levels.
Very few teachers end up joining the career by accident, but Laura actually never intended to go into teaching and started her journey actually in law. During her time at university, she received a legal placement in East Africa, and found herself working with young people there teaching them about human rights and so on, this being the first time she had really worked with children. After graduating, Laura took a gap year in Gambia where she was the team leader of a group of university students who were teaching in various schools, and then moved to London and undertook a PGCE. Laura moved up from class teaching in primary schools to Head of Year 6, heavily involved in the 11+ process before joining Glendower. She admits that despite getting the interview, she wasn't totally expecting to get the job, but was delighted to get it and join the leadership team. She feels passionately about girls education and creating opportunities that will set girls up for the rest of their lives.
A day in the life…
There is no typical day for the Deputy Head Academic, but Laura really thrives on the time that she still spends in the classroom helping children with their 11+ reasoning and interview prep, alongside small group maths sessions and current affairs teaching. Most days there are lots of meeting with parents, staff and children to make sure that everyone is on track and providing support where needed, making sure that everyone has what they need to do their job well. "Staff wellbeing is one of the highest priorities in my role and it is crucial that we try to get it right." Laura is also working alongside the IT Development Team on upgrading and improving the technology side of the school, and is keeping herself well informed on how things are evolving in the area of AI and automation, and how Glendower can ensure the girls get the best possible learning in a totally new area for us all. Watch this space for more updates on how we are all planning to implement all this.
Laura is also working on linking departments together, so that subjects are not just taught in silos, but showing the connections between different areas of learning. The deepest satisfaction for Laura is hearing a teacher suggest an idea, and then seeing them empowered and enthused to put it into action. We are lucky to have such an amazing team at Glendower.
The 11+ exam
With the approaching 11+ exam for our girls, Laura is keen to emphasise that at Glendower, the focus is not solely on the final outcome; rather, it revolves around cherishing the entire process as a positive experience. The goal is to emerge from this journey with a profound sense of satisfaction, knowing that you have given it your all and have every reason to be proud of your efforts. The schools you get into and the scholarships you receive may be impressive, but the essential skills you develop during this process are even more remarkable. These skills encompass self-reliance in learning, self-motivation, the ability to learn from one's mistakes, and the aptitude for creative thinking when faced with elusive answers.
Despite the undeniable pressures and bustling nature of this high-stakes examination, it is essential to maintain a balanced perspective. The essence of the 11+ exam lies in discovering the right school – a place that not only opens doors but also embraces forward-thinking educational principles and fosters a thriving sense of community and belonging.
Laura deeply feels the school's commitment to preparing young girls for the diverse array of examinations they might encounter. The adaptability required to transition from one style of exam to another, depending on the senior school's requirements, is truly impressive with our young ladies. However, our girls consistently rise to the challenge and perform exceptionally well. "This success is a testament to their resilience, and it reflects the dedication of our teachers, who work tirelessly to ensure that each student is well-equipped with the necessary exam techniques, facilitating a comfortable and familiar exam experience."
"Is teaching the career for me?"
Laura wants those considering a career in teaching to look at it with positive eyes – it often gets bad press or spoken of as a "tough job", but it is immensely rewarding and fulfilling for the right people and is definitely a place where good people can make a real, lasting difference.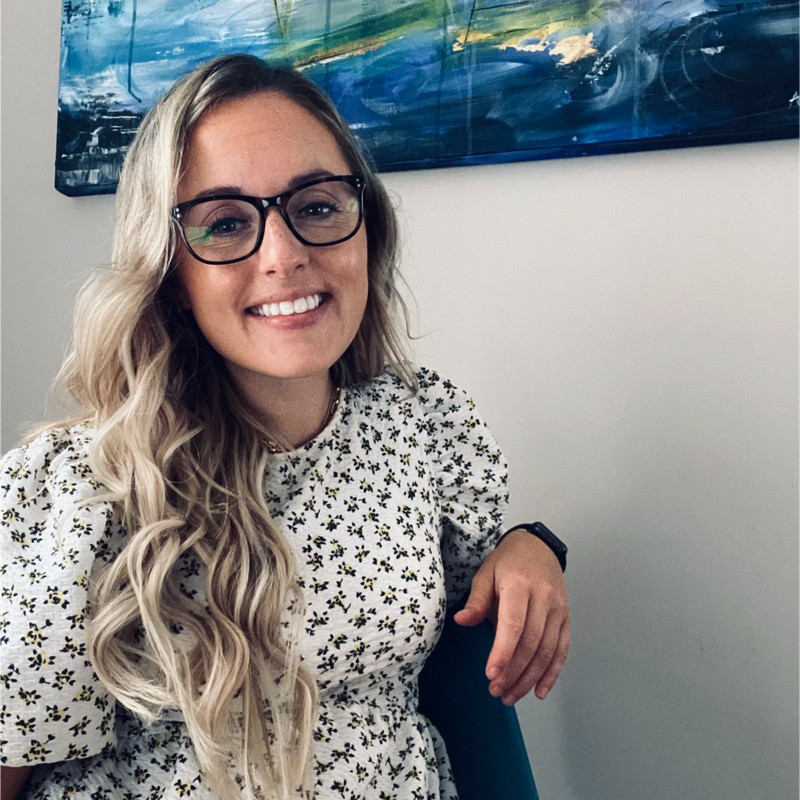 The Importance of Play for Children's Development
Whilst plenty of the Glendower community have been off resting and relaxing over the half term break, quite a few of the staff have been incredibly busy on site developing the new play area! The girls should be very excited to come back and try it out and we're sure they'll tell you all about it once they've had a play.
Play is not just a frivolous pastime for children; it is a crucial component of their development. Play is an essential aspect of childhood that not only brings joy and laughter but also plays a pivotal role in a child's overall development. In this article, we will explore why children need to play, how it aids in their development, and why we have invested in revamping their play areas to enhance the educational experience, and will continue to support the girls in their play. Ultimately, we also want to show how play actually forms part of our strategy to achieving our aims.
The Benefits of Play:
Cognitive Development:
Playtime offers our girls the opportunity to explore, experiment, and problem-solve, independent of adult-led activity and structure. Through imaginative and creative play, children engage their cognitive abilities, developing essential skills such as critical thinking and spatial awareness. We want our girls to become gamechangers, and without space to play, they will only ever know a world where decisions are made for them more often than for themselves.
Social and Emotional Development:
Play is a social activity that fosters interaction and cooperation. Children learn to negotiate, share, and understand the importance of empathy and teamwork. This can lead to the development of strong interpersonal skills that are crucial for future relationships and emotional well-being. It helps them move forward with our aim to foster positive and kind relationships in our school, and gives them a place to learn to become socially-aware, inclusive and responsible citizens.
Physical Development:
Physical activities during play, such as running, climbing, and jumping, help children develop their motor skills and coordination. Such physical engagement is vital for growing bodies and lays the foundation for an active and healthy lifestyle.
Language and Communication Skills:
In play, children often engage in conversation, storytelling, and role-playing. These activities enhance their language and communication skills, which are essential for academic success and future career prospects. This article on the power of play in language development is well worth a read.
Our new play area
The traditional, mundane school playgrounds with simple swings and slides have given way to innovative, engaging play areas that align with the ever-evolving needs of 21st-century education. The above might already have you convinced, but we wanted to invest in our play area for a truly enhanced learning experience. Modern play areas are designed to be extensions of the classroom, promoting experiential learning. Play isn't separate to learning, it is all wrapped up in one continuous learning experience which we call a school day! We are constantly looking for ways that we can be turning playtime into a valuable educational experience, as much as what they get from their time in the classroom.
We're sure the girls will love what we've done with the new play area and please do let us know what they say about it when they get home!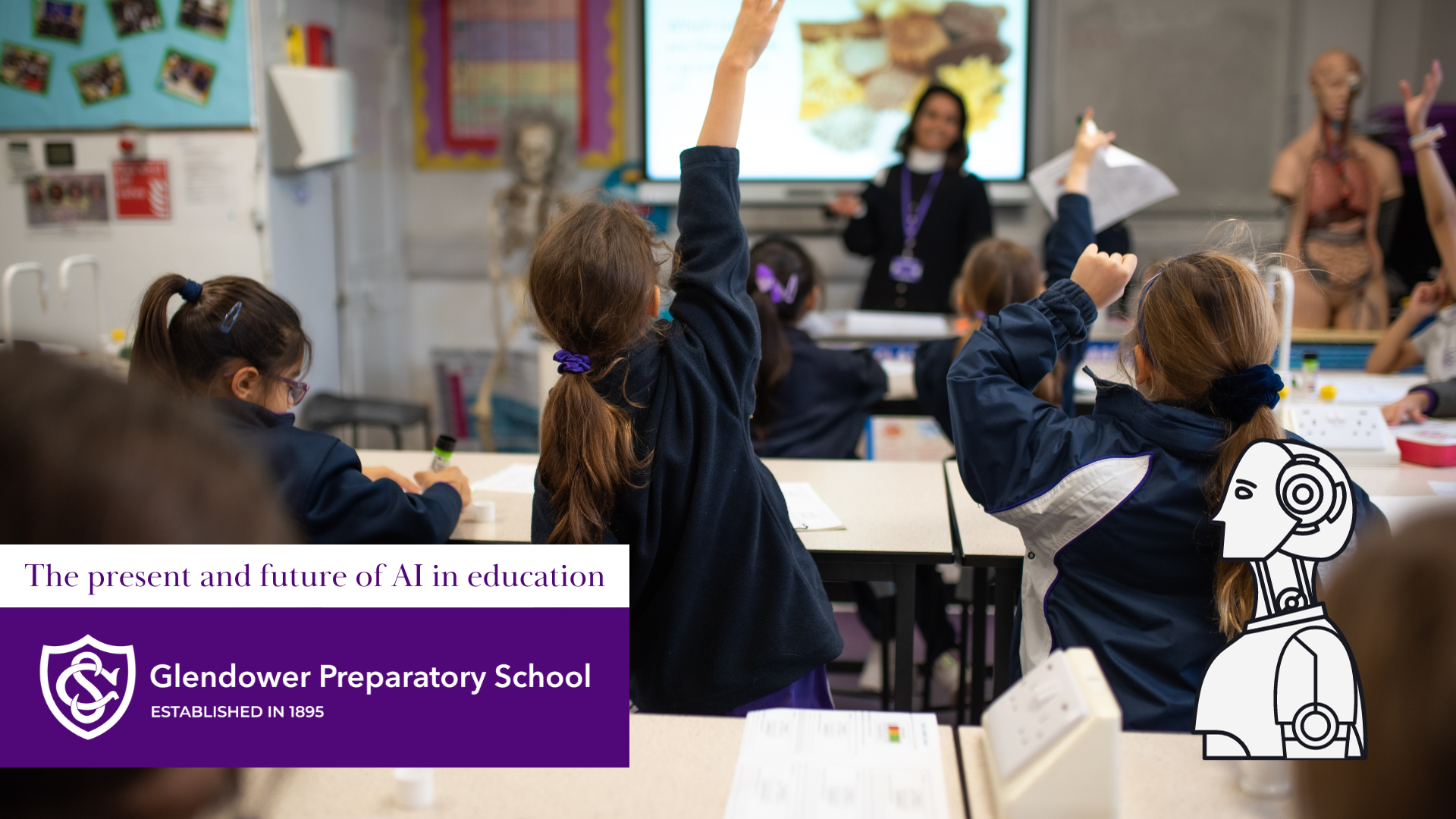 Artificial Intelligence (AI) has emerged at astonishing pace in 2023 as a groundbreaking technology with the potential to reshape various sectors of society, and education is no exception. In British schools, the integration of AI into the learning environment is steadily gaining momentum, promising to revolutionise the way students are educated and teachers teach. At Glendower, we are proud to be a school that has always adapted to the changes around us, without losing our core traditional values – who can forget how we continued to thrive even through the lockdowns of the Covid-19 pandemic… And did you know that during World War 2, the whole school moved to a hotel in Devon for 6 years? This article will look at the transformative potential of AI in schools, shedding light on its benefits, challenges, and the imperative need for a balanced approach to harness its full potential, and give you a little insight into how we are looking to work with AI at Glendower in the coming years.
AI-Powered Personalised Learning
One of the most promising aspects of AI in education is the ability to offer personalised learning experiences. Traditional classrooms often struggle to cater to the individual needs and pace of each student. AI can analyse the strengths and weaknesses of each student, adapting the curriculum to match their learning style and progress. This approach enhances engagement and fosters a deeper understanding of subjects, making learning more effective.
Sir Anthony Seldon is leading the charge with a government initiative to see how AI can not only benefit schools and learners, but also tackle inequality. "Schools themselves must seize the initiative to ensure rapidly developing generative AI technology is in the interests of learners, because schools cannot rely on or trust anyone else to do it for us. We slept on social media; teachers must help to shape AI," he says in this recent article.
Efficient Administrative Tasks
AI is also making strides in automating administrative tasks, allowing educators more time to focus on teaching. From grading assignments and managing schedules to tracking student progress, AI streamlines these labour-intensive tasks, helping to enhance overall efficiency in school systems. This newfound efficiency can lead to better allocation of resources and more personalised support for students. There is a mantra for those who work with automation that says, "Automate where possible, human beings where necessary." Who could argue with the idea of teachers having some of their workload lightened to be able to spend more time planning and delivering outstanding classrooms experiences?
Augmented and Virtual Reality
AI's integration with augmented and virtual reality is revolutionising the classroom experience. These technologies can transport students to various historical events, geological locations, or even inside the human body. By bringing abstract concepts to life, students gain a deeper understanding of subjects, making learning more engaging and memorable. Some schools are using apps such as Google Expeditions to take their classes on virtual dives of the Great Barrier Reef, or have tours of museums and art galleries around the world – how amazing is that?
Enhanced Tutoring and Support
AI-powered chatbots and virtual tutors provide students with on-demand assistance and support, outside of traditional classroom hours. These systems can answer questions, provide explanations, and offer additional resources, ensuring that students have the help they need whenever they require it. This approach encourages independent learning and can bridge the gap for students who need extra support. Some schools are experimenting with using robots to provide individual reading support – the perfect way for children who suffer with anxiety of making mistakes with adults to be able to regain the joy of reading with help that is totally non-threatening and low pressure.
Challenges and Ethical Concerns
Despite the transformative potential of AI in education, several challenges and ethical concerns must be addressed. Data privacy, for instance, is a paramount issue. Schools must ensure that personal information is protected and that AI systems are not used to invade student privacy. Furthermore, there is a risk of overreliance on AI, which may lead to deskilling of educators and the loss of the human touch in education – something that Glendower will resist with full force. There are even signs that schools in China are using headbands that show different colour light codes to monitor student engagement, which again could seem attractive on some levels – but our values wouldn't support anything that would remove the core principle that learners should be intrinsically motivated by the love for learning itself, rather than the fear of being "caught out".
The Imperative of a Balanced Approach
To harness the full potential of AI in our schools, a balanced approach is essential. AI should complement traditional teaching methods, not replace them. Educators must continue to play a crucial role in guiding students, fostering critical thinking, and imparting important values and social skills. Furthermore, stakeholders must collaborate to create guidelines and standards to ensure the ethical and responsible use of AI in education. On top of this, we also need to think how our curriculum will need to adapt so that students leave Glendower full of the traditional values we hold so highly, but also prepared for a world that is evolving at pace.
Conclusion
The transformative potential of AI in British schools is undeniable. It has the power to provide personalised learning, streamline administrative tasks, and enhance the overall educational experience. However, these benefits must be weighed against ethical concerns and the risk of overreliance. To navigate this educational revolution successfully, it is essential for educators, policymakers, and technology developers to work hand in hand, striking a balance between the power of AI and the enduring value of human teaching and guidance. By doing so, we can shape a future of education that is enriched by AI, yet still firmly grounded in the traditions of Glendower.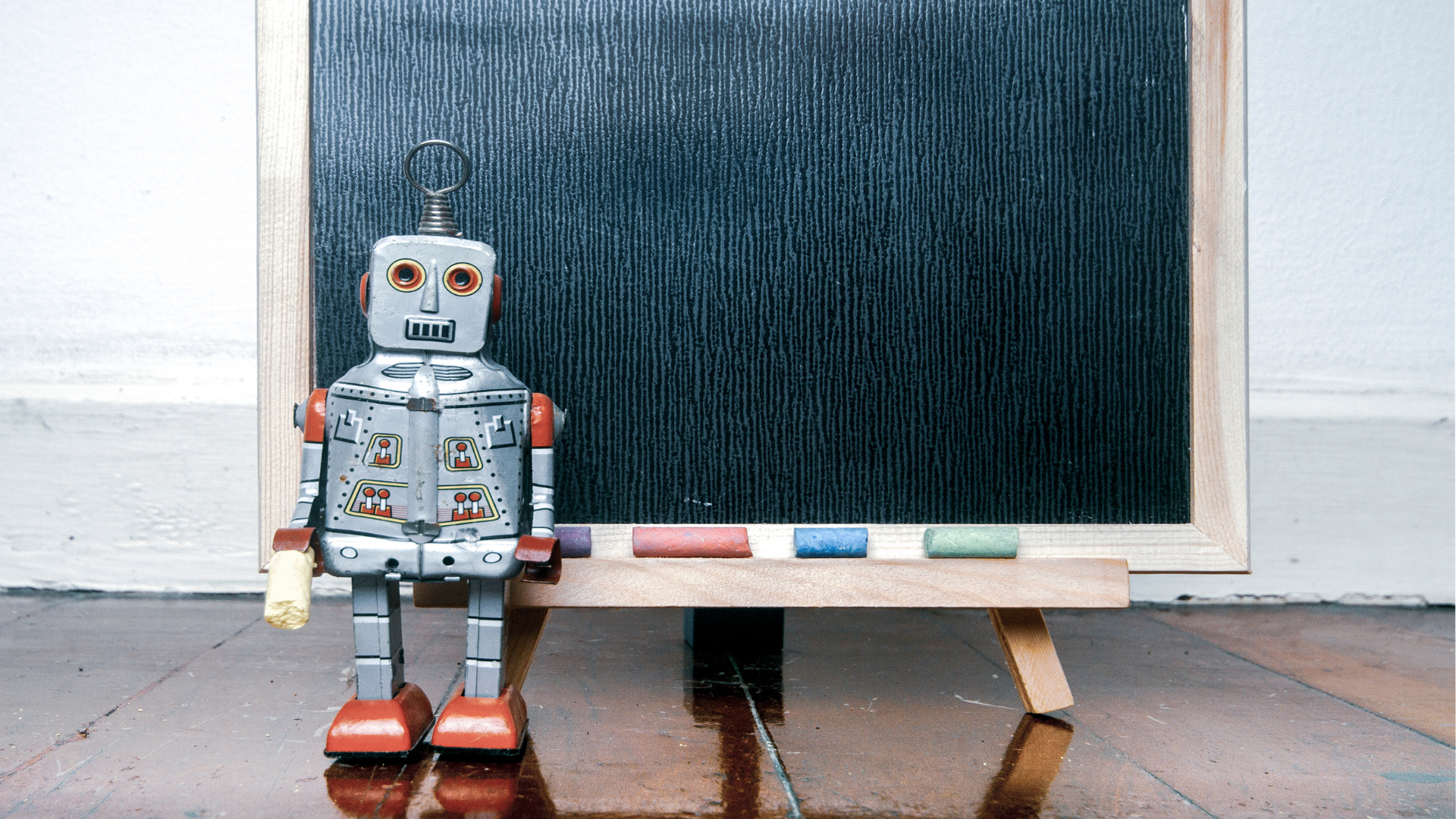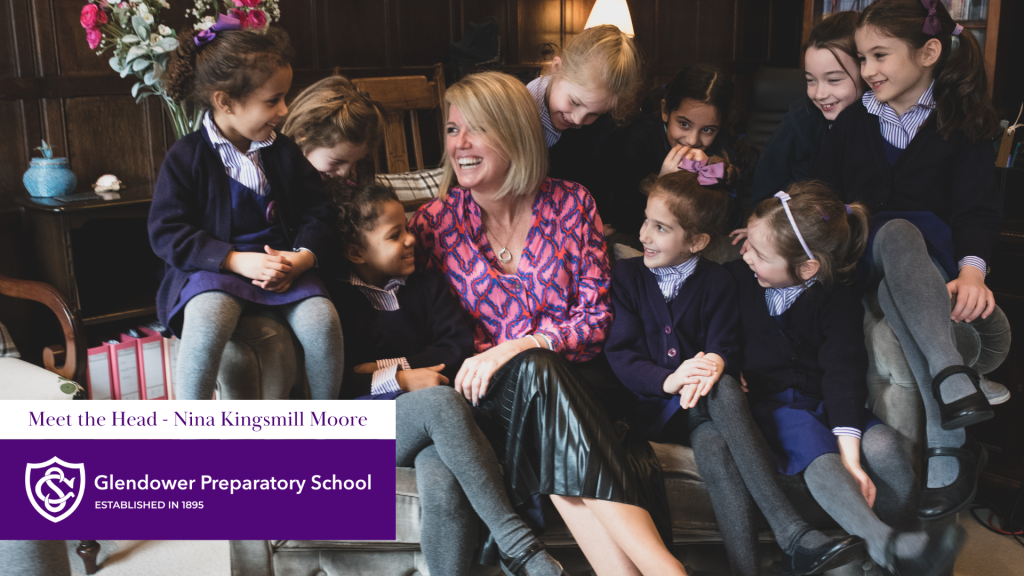 Glendower has a proud history, and over its 120+ years there have been a substantial number of incredible headteachers who have shaped the school in different ways, leaving their own impact on our wonderful community. We are proud to say that the current Head – Nina Kingsmill Moore – is continuing the trend of impressive individuals, with a talent for balancing the benefits of progressiveness without losing any of the traditional values that mean so much to our community.
Nina joined Glendower 4 years ago, now in her fifth year at the school, after 9 years at Lambrook School. Nina began life there on maternity cover, but then moved to Head of pre-prep and deputy head. This is her first headship, but after over 20 years working in education, there is a lot behind her story of reaching this point. Read on to find out more about her own journey to teaching, and headship, and see what you can learn from her experiences.
Beginnings in South Africa
Nina began her educational journey in South Africa, where she attended school from the age of 5 all the way through secondary school. Her path then led her to Durban, where she completed her teacher training, specialising in Geography. In South Africa, teacher training programs are known for their practical approach, involving annual placements in real classroom settings. While Nina initially focused on teaching primary school students, she was also qualified to teach Geography to senior-level students.
Subsequently, Nina returned to London and began her teaching career. She started as a supply teacher and worked at various locations throughout the South East of England. Her professional journey eventually led her to Wetherby, an all-boys prep school, where she served as the director of upper years for three years. She later assumed the role of Deputy Head before taking a hiatus for maternity leave, during which she welcomed three children into her life.
Why become a teacher?
Nina's motivation to become a teacher was crystal clear. She didn't consider herself the "best student" during her own school days and was determined to be the kind of teacher she wished she had. Her deep love for children drew her to the teaching profession, with a focus on helping those who may not find academics easy to navigate and appreciate. Despite her own experiences, she did have one exceptional teacher who greatly inspired her and played a significant role in her decision to become an educator – watch this space for more information about their impact on Nina's life, career, and outlook.
Nina's journey wasn't without its challenges. When she initially expressed her desire to become a teacher, she encountered scepticism from her headteacher. Yet, Nina's determined spirit turned that doubt into a powerful driving force to achieve her goal. She firmly believes that if she sets her sights on something, she will make it happen.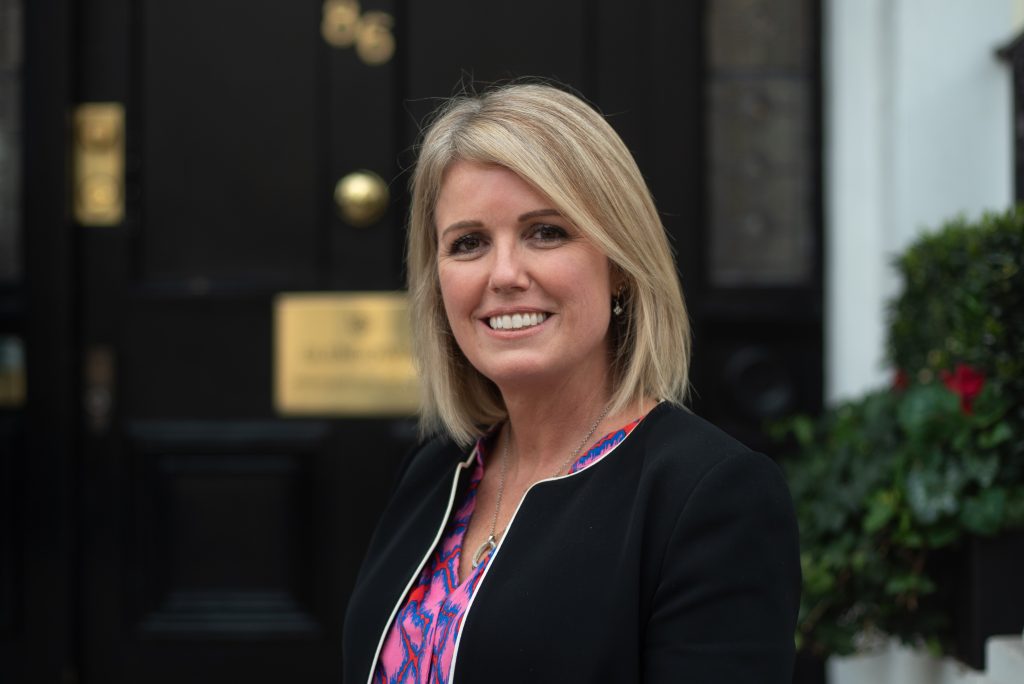 What makes a good school?
For Nina, education is the ultimate key to open doors in life. Her passion for teaching is unwavering, and she still wakes up every day with ideas and plans to support and inspire children, even when she's not in the classroom. She is a firm believer in active, collaborative, and challenging learning environments. Silence in the classroom is something she strives to avoid, as she understands that learning thrives on questions, pushing boundaries, and critical thinking.
Her leadership journey at Glendower School had its share of challenges, notably the impact of the COVID-19 pandemic and the resultant school closures. Nina's vision extended beyond academic excellence; she aimed to prioritise the well-being of the students. She separated academic and pastoral care roles and introduced a second Deputy Head, Laura Rodgers, to ensure a balanced approach to education without compromising standards. As a result, academic results have continued to improve.
Nina's commitment to education extends to embracing technological advancements. She initiated substantial updates to the school's IT infrastructure, particularly focusing on upskilling for remote learning. With the rise of AI, Nina and her team remain vigilant to keep up with developments and utilise AI to enhance the learning experience while counteracting potential time constraints.
What about the future?
Regarding the future of Glendower, Nina possesses a quiet confidence in the face of challenges but remains vigilant. The school aims to expand its community involvement and charitable efforts while engaging with parents to maintain its status as a destination school. Nina's goal is to attract exceptional teachers who can thrive in an innovative environment while respecting the school's traditions.
Outside of her teaching role, Nina has a daughter currently in the midst of her A-Levels and twins who are engaged in their GCSEs. On weekends, she values "sacred" time away from work to watch her children's sports matches, enjoy quality meals, and savour wine with her husband. She finds fulfilment in separating her professional and personal lives, allowing her to be fully present in both worlds. Above all, there's nothing she enjoys more than gathering with good friends, strumming a guitar, and singing along to songs.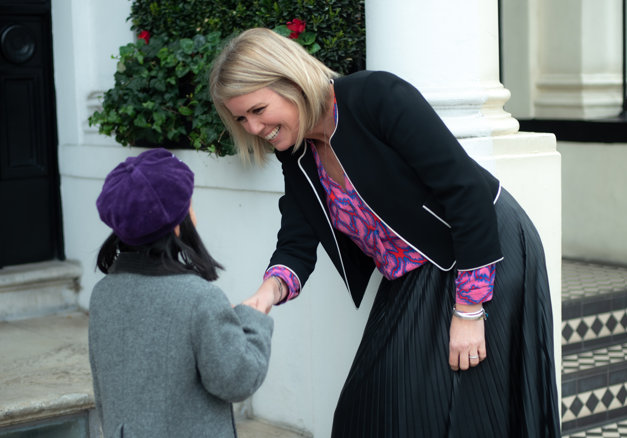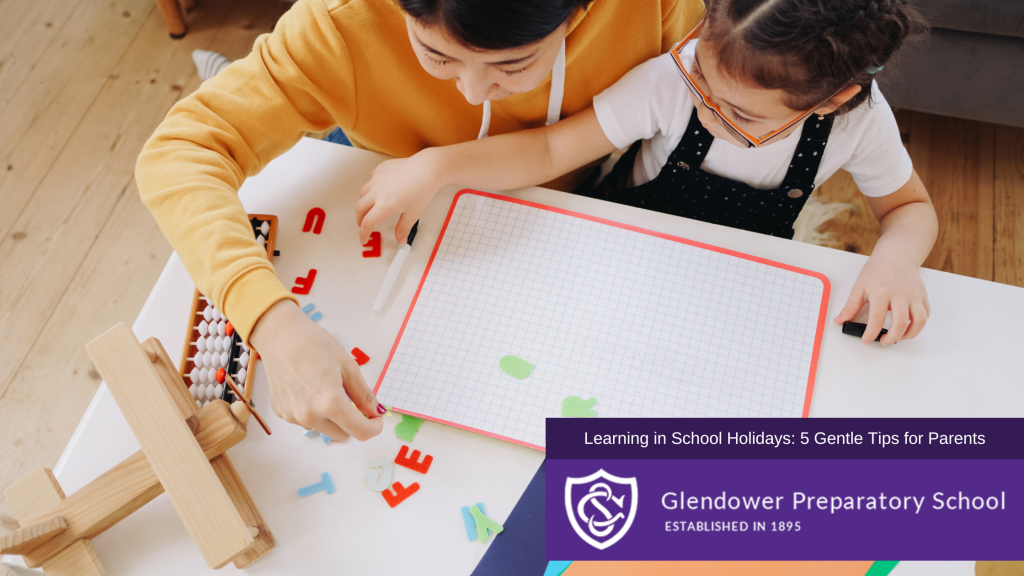 Believe it or not, we are just days away until the October break! We are aware here at Glendower that parents often find themselves wondering how to ensure their children continue learning without transforming their homes into makeshift classrooms or overwhelming their little ones. Striking a balance between relaxation and education can be challenging, but with some thoughtful guidance, it is entirely achievable and hugely rewarding. In this blog, we will provide five gentle and effective tips for parents in the UK to help their children learn during half-term holidays without having to become, "Mr Daddy, Head of Homeschool Maths".
1. Hands-on Learning Activities
Encourage your child's natural curiosity by planning hands-on learning adventures. Visit local museums, nature reserves, or historical sites. To save on cost, here is a really helpful article with a list of free things to do with children in and around London, for those of you staying local this October. Allow your children to explore, ask questions, and learn through experiences rather than textbooks. The key is to make it feel like an exciting outing rather than a formal lesson. One of our key aims at Glendower Prep is, "To spark freedom of choice and thought so that our girls go on to become gamechangers" so do involve them in the decision-making process about where to go and what to do.
2. Bring Learning into Daily Routines
Learning can seamlessly integrate into daily routines. Engage your child in activities like cooking or gardening, where they can develop essential skills while having fun. Discuss the science behind cooking or the biology of plants as you go along. This way, they'll be learning without even realising it. This is a great time to finally master tying shoelaces, folding and putting away clothes… maybe some of your older girls could learn how to make you a cup of tea in the mornings? Surely essential learning… And whilst mastering these tasks, empower your daughters with the word, "Yet". If there is a task they are struggling with, and they sigh in frustration and say, "I just can't do it!" – make them add the word "Yet" to the end of that sentence.
3. Build a Reading Book
Foster a love for reading by setting up a cosy reading nook at home (Pinterest has a great series of ideas if your creativity is a little dry!). Stock it with a variety of books, magazines, and comics that align with your child's interests. Let them choose what they want to read, and spend time reading together. Reading not only enhances their vocabulary but also sparks their imagination – and by having their own "special places" which they have helped to design and build will only help them connect even more with the feeling of getting lost in a story. You might even get a few minutes to yourself to drink that cup of tea they made you!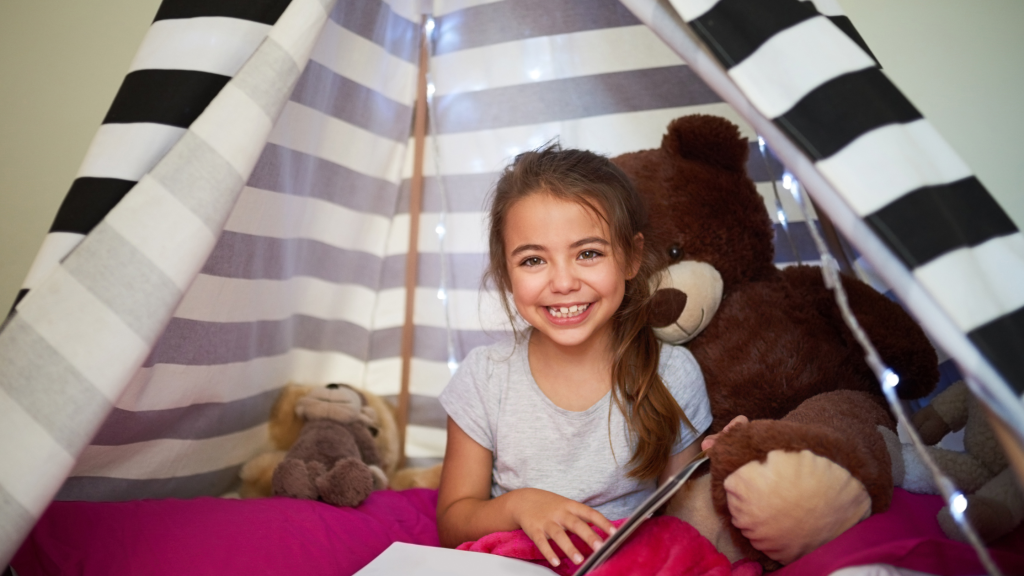 4. Time to Explore their Hobbies
Half-term holidays are an ideal time for children to explore their interests and hobbies. Whether it's painting, playing a musical instrument, or pursuing a sport, encourage them to spend time doing what they love. You could look to sign them up for short courses or workshops related to their chosen hobby to enhance their skills, but with careful guidance, you're likely to find appropriate and free online tutorials and guides (WikiHow alone has step-by-step guides which are often very straightforward to follow).
5. Creative Play
Learning doesn't always have to be structured. Encourage creative play where your child can use their imagination. Provide them with art supplies, building blocks, or crafting materials, and let them create freely. Maybe consider hanging on to some of your recycling in the next week or so – cereal boxes, juice cartons, newspapers, tins and bottles all provide great materials for junk modelling. Creative play helps develop problem-solving skills and enhances their creativity, and is a great chance to develop more of the perseverance and resilience that we all want to see in our girls – as they try things and they don't work, encourage them that this is a result to learn from, not a failure.
Good luck mums and dads!
Building a learning environment during school holidays need not be a daunting task, and you don't need to become pedagogical experts or disciplinarians overnight for it to work for you and your family. By adopting these gentle approaches, parents can ensure their children continue to learn and grow while still enjoying the much-needed break. Remember, the key is to make learning enjoyable and organic, allowing your child to flourish without feeling pressured or overwhelmed. With these tips, you can strike a balance between education and relaxation, creating memorable and enriching school holiday experiences for your family. And if all else fails, don't forget the power of a simple board game, walk, or even just a big bowl of microwave popcorn and a movie together.